A MESSAGE FROM THE RIVERVIEW LAND PRESERVE DIRECTOR JEFF DOBEK

It's a new year, and the new website platform is just one of the different and exciting things going on at Riverview Land Preserve (RLP). While my team spends a lot of time managing waste materials, we're making time to strengthen community partnerships and open lines of communications. We all are very committed to working with local communities and residents to help them understand the operations and local infrastructure benefits of a modern-day landfill.
Downriver citizens can expect to see more communications about happenings at RLP in the coming months … read more
Dobek named Assistant City Manager; and, Jeff Kugelman selected Sales & Marketing Manager Riverview, MI. (February 2020) – After an extensive recruitment process, the City of Riverview has chosen Jeff Dobek as its next Assistant City Manager. In his new role, Dobek will be responsible for the City's business enterprise operations – including Riverview Land Preserve and Riverview Highlands Golf Continue Reading...

In early 2020, scouts from Riverview Cub Scout Pack 1659 got an up-close and personal look at Riverview Land Preserve's massive new refuse compactor. As part of their tour of the solid waste landfill facility, the scouts were introduced to the RLP's new 123,000-pound BOMAG Refuse Compactor. The compactor would soon be in service on the nearby hill, compacting waste Continue Reading...

Local residents can participate in recycling various materials at no charge by delivering the materials to RLP's on-site recycling containers. Recently, we extended our Wednesday hours to 7 p.m. so that residents can recycle during non-business hours when it's convenient for their personal schedule. Monday, Tuesday, Thursday & Friday 7:30 a.m. – 4:00 p.m. Wednesday 7:30 a.m. – 7 p.m. Continue Reading...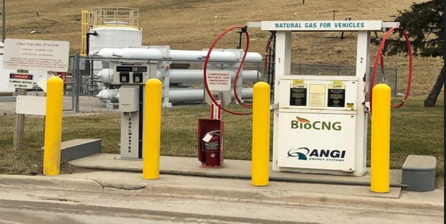 Did you know?
Garbage can be turned into gas! Landfill gas is a source of renewable energy for electric power generation and clean-burning fuel for vehicles. RLP's gas is used in a successful Green Energy project with Detroit Edison, and generates enough electricity to power more than 3,700 homes – all while reducing greenhouse gas emissions.
---
About RLP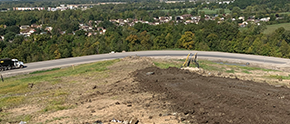 Serving the Downriver Community since 1968.
The City of Riverview maintains a strong commitment to local residents, customers and community partners to provide high-quality service, while protecting environmental resources. It is with this level of commitment which makes Riverview a leader in developing innovative approaches to solid waste opportunities, for over 50 years; and, has also made solid waste management a successful, strategic part of the City's everyday business.
Schedule a Tour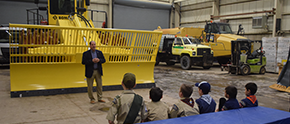 Tours are available on a limited basis to residents as well as community, civic and academic organizations.
---
Learn More
Click here to download a printable PDF about Riverview Land Preserve.
Upcoming Events
Participate in on-site recycling this month!
Monday, Tuesday, Thursday & Friday
7:30 a.m. – 4:00 p.m.
Wednesday
7:30 a.m. – 7 p.m. (extended hours)
Saturday
7 a.m. – 11:00 a.m.